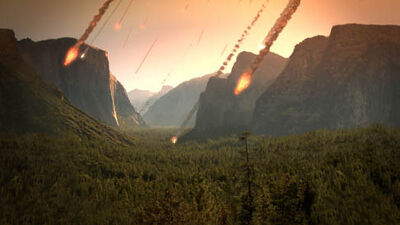 Armageddon (or known as Extinction) was an explosion after the dinosaurs were extinct. It had a pack of atomic bombs, tsunamis, and a force Asteroid that was bigger than Mount Everest hit the earth and blown up all the dinosaurs and changed the earth into a world of humans and modern creatures. Armageddon was around during the Triassic, Jurassic, and Cretaceous period on our planet.
| Species (That no longer excists) | |
| --- | --- |
| Extinction was also something that replaced the dinosaurs from us and changed them into different animals like carnivores, plants, herbivores, predators, land, and sea animals. | |
| Species (That excists today) | |
| Explosions | |
| | |
Ad blocker interference detected!
Wikia is a free-to-use site that makes money from advertising. We have a modified experience for viewers using ad blockers

Wikia is not accessible if you've made further modifications. Remove the custom ad blocker rule(s) and the page will load as expected.